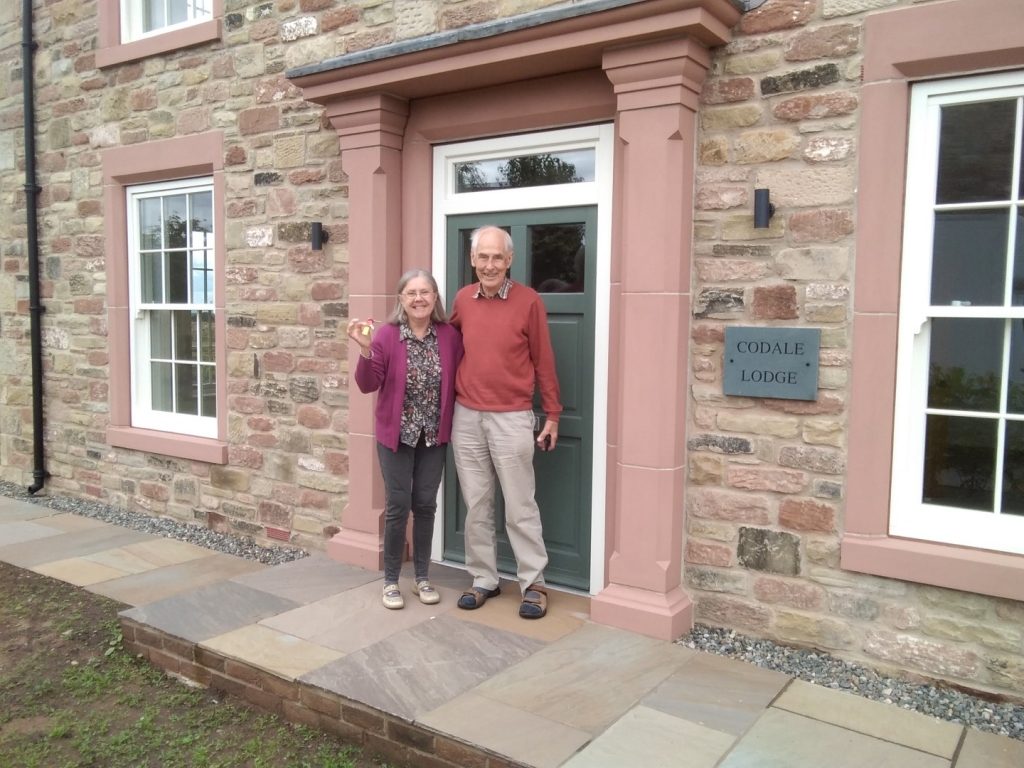 A Picture Perfect English Country House
Tucked away down a quiet country lane, Hamish and Mary's breathtakingly beautiful home is a wonder to behold. The work of the celebrated and renowned Anvil Homes, it forms part of an exclusive collection of nine individually designed homes situated on the outskirts of the desirable village of Hayton near Carlisle in Cumbria.
A modern masterpiece in the historic county of Cumbria, Fairfields at Hayton has a rare kind of star quality that enables it to shine whilst simultaneously looking entirely at home in its picturesque surroundings. The handsome homes blend beautifully with the landscape, offering a new slice of heaven in what is already one Britain's most enduringly beautiful regions.
Cumbria's stunning landscapes were a real draw for Hamish and Mary, both of whom have strong connections with the area. "Mary and I met in this part of the world," smiles Hamish. "Once we moved to the South of England, we found a family home and ended up living there for several decades."
"We've been longing to return," smiles Mary.
And could there be a more magical homecoming? The Lake District National Park, with its serene lakes, rolling hills, and majestic mountains, offers endless opportunity to enjoy the beauty of nature. The region also boasts a rich cultural heritage and is home to historic towns such as Carlisle and Kendal, each with its own distinct character and architecture. Excellent schools and a busy calendar of cultural events make it an attractive option for families too.
Tranquillity, beauty and connection come as standard for those who choose to reside within Cumbria's borders. Content with everything the region has to offer, Mary and Hamish found themselves struggling to find the perfect place to move to. "We wanted somewhere that we could just move into," explains Mary. "But we wanted to find somewhere that really felt like home, and offered a lovely way of life."
When they came across Fairfields, however, they spotted the opportunity to start a new chapter in a home that truly had it all. "We felt incredibly lucky to find this special development," says Mary. "Whilst these homes are modern they are outwardly traditional and constructed to an unbelievably high standard."
The clean-lined yet comfortable Codale Lodge is flooded with natural light and epitomises Anvil Homes' mastery of pared-back style. Each property at Fairfields is meticulously crafted with the signature Anvil Homes style, blending classic four-square design with traditional stone and slate and incorporating elegant sliding sash windows.
The homes are finished to a superb standard, with an exceptional attention to detail, and are equipped with premium quality kitchens and luxurious bathrooms. Notably, the properties have also been designed with energy efficiency in mind, featuring advanced air source heat pumps for heating and hot water, coupled with high levels of insulation, resulting in an impressive Energy Efficiency rating of B.
No doubt the picturesque village of Hayton will also appeal to many, with its highly rated primary school, nearby farm shop with tea rooms and a swimming pool. "There is a wonderful sense of community here and an excellent pub!" says Hamish. "Everyone has been so welcoming and friendly."
Those searching for the perfect country home may wish to take a closer look at this most enchanting portfolio of homes. By blending a dream location with uncompromising quality and innovative design, it's clear that Anvil Homes has triumphed once again.